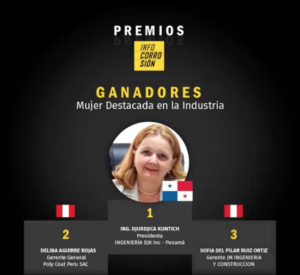 Outstanding women in the Corrosion Industry Award
We are happy to announce that Ms. Kuntich, our ZINGA distributor in Panama, has received the annual Latin American Award "OUTSTANDING WOMEN IN THE INDUSTRY" by INFOCORROSIÓN.
INFOCORROSIÓN is oriented to the investigation and diffusion of topics related to Protective Coatings Technology, Corrosion Control, Surface Treatment and Integrity.
We wish to congratulate Ms. Kuntich for achieving this award and hope this can help in her future professional career.
october 2019